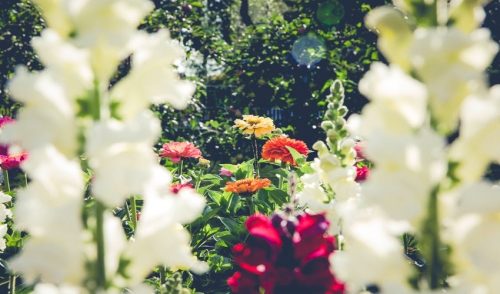 The summer has finally arrived. And the gardens are showing their best colors.
Continue to water, deadhead and feed containers. Fertilize your flower garden with granular or water soluble fertilizer. Stake plants such as dahlias, sunflowers, and hollyhocks. With heavy rains and breezes, these stately plants can get snapped.
Cut back faded perennials to keep the garden tidy. Leave hollyhock and foxglove seed stalks on the soil as these are biennial, and will self seed.
Prune summer flowering shrubs, once they have finished blooming. This is the time to bring overgrown shrubs back into the fold!
In the vegetable garden, feed tomatoes, peppers, cucumbers, and eggplant, with tomato fertilizer. Espoma makes a good one that is high in potash. Remove some lower non-producing leaves from your tomato plants, as this will help with air circulation and fight disease.
Harvest onions, garlic and shallots when the foliage turns yellow and falls over. Lift and let dry. Then store in net bags in a cool dry place.
Keep an eye out for pests and fungal disease, on all plants.
But most of all, enjoy the beauty and bounty of your garden!